For those of you who know me well, you know that I love to make mixes for people.  Music changes everything.  God uses music to speak to me and I use music to talk with people.  Sometimes a song just says it so much better. I knew the first thing that I needed to make for Ben was a mix.  But what was going to be on it?
All I knew was that I wanted to make a mix and hand it out to everyone who came to see Ben at his funeral.  I wanted to give them something that could help them remember my son.
For two days I had my iTunes open creating, and recreating the ultimate playlist for Ben.  Each time I tried I became more agitated and frustrated: nothing was good enough.  Nothing was perfect.  Nothing captured it all.
So  I put the play list aside and tried to make the album cover.   I'm a designer by trade, and my standards are high.  My standards for Ben was perfection, and I wasn't meeting up.  By Saturday night, knowing I had only one more day to complete this project, I started to melt down.  That's when Pam came into the room.
She was more than beautiful.  She sat on my lap as I stared at the computer full of tears.  I just couldn't do it, but wanted nothing more than to complete this.  I was nowhere.
She told me to delete the playlist I had and try one more time, but this time, don't think about it as a mix, but just think of what you want to share with Ben.  This isn't for anyone.  It's just for Ben.  People will get copies at the funeral, but it's not for them to listen to.  The copy that mattered is the one I was going to put in his casket.  That's all I needed to think about.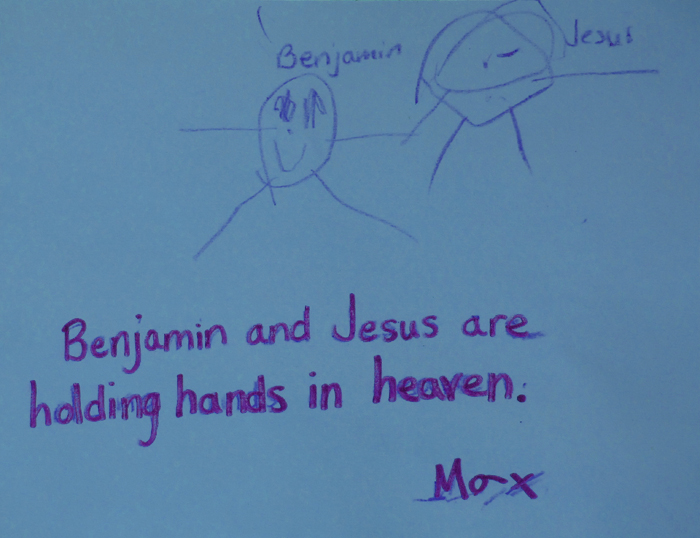 For the cover, I just put the graphic artist in me to rest, and scanned in a picture that my niece Layne drew of Pam, Ben, and I in heaven.  For the CD label, I scanned in a picture that my nephew Max drew of Jesus and Ben holding hands in heaven.  It was perfect.  Those two drawings will always be the most amazing works of art that being unbelievable belief into our lives.
With Pam on my lap I made the mix.  It's the greatest mix I've ever made for my amazing son.  Each of these songs are permanently ruined by my memory and love for my him.  But from your perspective, it's probably one of the worst mixes you've ever heard.  And now, three months later, I'm not even sure if people really listen to each song like I do.  But to me and my son, it's perfect.
Here it is: the greatest Mix I've ever made for my son Benjamin.  Only three bands made the cut, and out of 10 tracks only one band was needed for 8 of them.   These songs aren't for everyone: they are for me and by boy, but you're invited to listen with us.
1. Where the Streets Have No Name by U2
[audio:/wp-content/uploads/2015/07/1-Where-The-Streets-Have-No-Name1.mp3]
To Ben: This song is about where you are with Jesus.  It helps your Mommy and Daddy to understand what we can't see.  "And when I go there, I go there with you.  It's all I can do."
To my friends reading this Blog: This song captured me as a very young boy.  I knew it was about something greater and larger than life as I knew it.  As an adult, this song, like wine, continues to mature as I mature.  To me, it's about heaven.  It's about God restoring all things.  It's about life as it should be and as we long for it to be.  It opens with the sound of an organ droning.  This is my fallen world: full of pain and unexpected loss.  But then, there is is sound that breaks in quietly, then bursts forth and explodes into joy.  To me, this is the sound of Jesus breaking into our pain and making all things new again.  I wanted those at the funeral to think of heaven and Ben every time they heard this song.  In September Pam and I are going to see U2 with my friends Tim and Krista.  I can't wait to scream out for my son.  Because when I hear the Edge break through that drone . . .  to me, it's the sound of Jesus introducing me to my son.
2. Ultraviolet (Light My Way) by U2
[audio:/wp-content/uploads/2015/07/2-Ultraviolet-Light-My-Way1.mp3]
To Ben: This of your daddy's favorites he would have tortured you with, but he knows you would have loved it (eventually).  "Baby, Baby, Baby, light my way."
To my friends reading this blog: When you listen to this song, it builds so powerfully and comes out quickly, blasting into full volume.  You would almost expect Bono to sing bolder, louder, with more force, but he does the opposite.  As powerful as the music is, Bono's voice is just as gentle.  I never would have expected it, and it's perfect.  The lyric is so perfect it's painful: "There is a silence that comes to a house / Where no-one can sleep. / I guess it's the price of love; / I know it's not cheap."  It's crazy to think, but if I could do this all over again and have Ben, knowing what would happen, I would.  He's changed me forever.  God is using Ben to transform me.  It hurts.  I wish it would stop.  But it can't, and God is doing what he does: a slow transformation driven by love.
3. Original of the Species by U2
[audio:/wp-content/uploads/2015/07/3-Original-Of-The-Species1.mp3]
To Ben: Ben, my son, you are God's original masterpiece.  This song is for you.
To my friends reading this blog: Each word in this song is perfect.  Bono and the Edge wrote this for their daughters.  I've taken it for my son. What hurts the most about Ben is what this song captures:  Benjamin Edward Miller was created by God in my wife's womb.  Benjamin Edward Miller was the very first of his kind, and the very last.  No other human being will ever be like him.  He was original.  Now Pam and I wait, because everyday we are one step closer to enjoying every aspect of what was lost.   "You steal right under my door / And I kneel cos I want you some more"
4. A Sort of Homecoming by U2
[audio:/wp-content/uploads/2015/07/4-A-Sort-Of-Homecoming1.mp3]
To Ben: Your Mommy kept telling me to play music for you while you were inside of her.  I'm sorry I never did. This is the song I would have played.  It's title has taken on a new meaning.
To my friends reading this blog: Not playing this for Ben is one of my life's greatest regrets.  It's so beautiful to me it's painful.  I can't wait to "go home" and be with Ben.  I know most of you would skip this song, but your missing out.  It's amazing.  Here is the last verse . . . it's my mantra.
And your heart beats so slow
Through the rain and fallen snow
Across the fields of mourning to a light that's in the distance.
Oh, don't sorrow, no don't weep
For tonight at last I am coming home.
I am coming home.
5. Walk On by U2, performed in live in London for the 911 Benefit concert many of us watched.  In this song, U2 combines two: Heaven on Earth and Walk On.
[audio:/wp-content/uploads/2015/07/5-Walk-On-Live1.mp3]
To Ben: I'll see you when I get home.
To my friends reading this blog: I'm not sure what to say about this song because there is too much to say.  Pam and I put this on for us.  We are dying inside because of this loss, but we love each other, love our family and friends, and love this life God has given us.  Jesus wants us to mourn, but He also calls us to walk on.  We all have to leave it behind: all that we fashion, all that we make, all that we build, all that we break, and all we count on two fingers.  It's just that we didn't get a choice.  But who does?  This version is so freaking powerful because of the context that Bono sings it in.  It's to everyone to lost a loved one because of the worst kind of evil any of us have seen.  At the end of the song Bono screams out to those who have died, "I'LL SEE YOU WHEN I GET HOME!"  Over and over.  Bono is saying, "when I die, because of Jesus, there is hope, redemption, and restoration to all of this pain. We WILL meet again."
6. Yahweh by U2
[audio:/wp-content/uploads/2015/07/6-Yahweh1.mp3]
To Ben: This song is a very bad recording and it's what makes it so good. You can hear 20,000 Californians sing to Jesus in the chorus. This is heaven.  You are not alone.
To my friends reading this blog: Please listen to this as loud as you can.  Listen as if you were Jesus himself.  It's 20,000 people at a rock show singing out to a God they don't even know.  It's in the chorus, and it's really clear the second time it's sung.  It's beautiful.  Remember Jesus tells the Pharisee's when on Palm Sunday, that if the people stop praising him the rocks will cry out?  This is one of those moments.  While listening to this song, if I close my eyes, I can feel my son's tiny fingers cling to my hand.  He's right next to me.  It's one of my seven wonders.
7.  "40"  U2
[audio:/wp-content/uploads/2015/07/7-40-Live1.mp3]
To Ben: The chorus of this song ask's God, "How long until you return?"  Ben, I want Jesus to bring you back to me more than anything in this world. I love you.
To my friends reading this blog: Shouldn't this be the mantra of Christians?  How long God?  How long?  Jesus' last words to us was a promise of his return and restoration to all things as they should have been.  This is why my license plate say U2ps40.  How long?  How long?  How long?  Please return.  I picked this live version because Bono cries out about heaven: "Nobody gonna feel no pain, nobody gonna cry someday!"  I listen to that 20 seconds on repeat constantly.
8. MLK by U2
[audio:/wp-content/uploads/2015/07/8-Mlk1.mp3]
To Ben: Your daddy was practicing two songs to sing to you while you fell asleep.  This is the first one.
To my friends reading this blog: During that week right before the funeral I was scared to death about this song and the next.  I wanted nothing more than to sing it to my son at his graveside.  I had no idea if I could have the courage to put my son to sleep: for the rest of my life.  Tears are pouring down my face as I'm writing this now.  I just can't believe it.  I wanted a son to put down for the night.  What I got was a step of faith I can hardly bear.
9. Alright For Now by Tom Petty
[audio:/wp-content/uploads/2015/07/9-Alright-For-Now1.mp3]
To Ben: This is the second.  I will constantly sing it for you.  I love you.
To my friends reading this blog: The words are simple.  Maybe Tom Petty wrote it for a lover.  Maybe a child. It doesn't matter.  This is the second song I will try my best to sing it at your grave.
Goodnight baby, sleep tight my love
May God watch over you from above
Tomorrow I'm workin' what would I do
I'd be lost & lonely if not for you
So close your eyes
We're alright for now
I've spent my life travelin'
I've spent my life free
I could not repay all you've done for me
So sleep tight baby
Unfurrow your brow
And know I love you
We're alright for now
We're alright for now
10. Hallelujah (Aleluya) by Il Divo
[audio:/wp-content/uploads/2015/07/10-Hallelujah-Aleluya1.mp3]
To Ben: Benny, you have the greatest mommy in the world. She's going to miss you so much. We are in so much pain that you can't be with us.  We want nothing more than to see you in heaven.  This song is from another world.  We don't have words for how much we hurt, and how much we love you.  Hallelujah.
To my friends reading this blog: I have no words for you either.  This song is the most beautiful ever written and it needed to be in Italian.  It needed to be just out of my reach and understanding.  We close our CD in the hands of God himself and there is nothing more difficult than laying my dead son in the arms of God, in the arms of a promise.